New open access lab for Alderley Science Park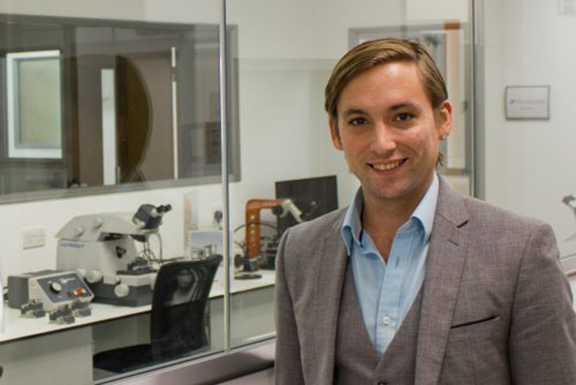 Above: Daniel Royston
A new £5m open access laboratory offering highly specialised services will be opening at Alderley Science Park this week at an open day, conference and exhibition.
EM Analytical will provide advanced imaging and characterisation services to the scientific industry both in the UK and across the world.
The facility is supported by a team of experienced engineers, chemists, physicists and material scientists who are available to assist clients who need support during their project.
The open access facility is the brainchild of Daniel Royston from Macclesfield. The laboratory boasts a range of scanning electron and transmission electron microscopes as well as a semiconductor processing service including electron beam lithography for high end nanolithography.
The equipment such as the electron microscopes can be accessed remotely by clients giving them access to the services from anywhere in the world, both to view results and operate equipment remotely.
The facility will be available for single sample analysis through to full project management
Royston said: "There is no other commercial company offering such a broad range of equipment and disciplines. At Alderley Park clients can now access high level chemical analysis to sub 10nm imaging, cyro TEM and low energy, high resolution imaging.
"With the staff and equipment available I believe it is a world-class facility.
"Alderley Park is already establishing itself as a world-class science hub and we are delighted that our cutting-edge facility will be part of it."
Further details: https://www.eventbrite.co.uk/e/em-analytical-alderley-park-open-access-services-open-day-conference-exhibition-tickets-37722406734