Local Enterprise Partnership – £3.2m for Cheshire Green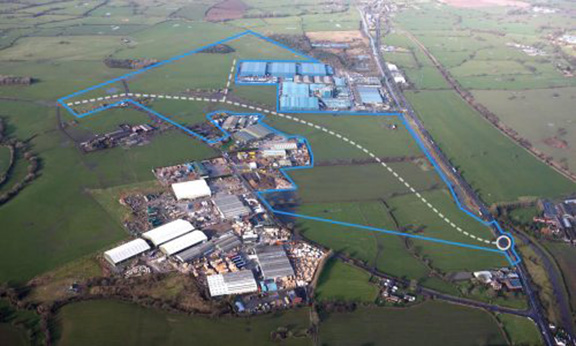 The Cheshire and Warrington Local Enterprise Partnership (LEP) has provided a facility to draw up to £3.2m from its Growing Places Fund to unlock the first phase of development at Cheshire Green Industrial Park.
Cheshire Green at Wardle is adjacent to the existing NWF Group headquarters and the established Green Lane Industrial Estate. It is six miles from Crewe and 15 miles from Chester.
The 150-acre site has outline planning consent for 1.5million sq ft of industrial accommodation with detailed planning permission to develop a roundabout off the A51.
Cheshire Green Employment Park Ltd is now implementing the first phase of the development with the construction of the roundabout and access to the site.
Phillip Posnett, director of CGEP, said: "The funding and support of the LEP for the first phase of Cheshire Green Industrial Park is a positive step for the development of much needed industrial and distribution space in Cheshire East and the North West region. Main contractor Jones Bros Civil Engineering UK has started work on site and completion of the roundabout is scheduled for the end of the year.
"We have been encouraged by the initial level of enquiries from businesses and now with a definitive time line we can now work with them to bring them on to the site which will lead to great employment opportunities here."
Matthew Pochin, director at Legat Owen, joint agents for the scheme with Fisher German, said: "Crewe has become a much sought-after location for distribution and logistics businesses. With a lack of supply available, Cheshire Green is an opportunity to cater for this demand and provide occupiers with a range of design and build solutions to suit and we can provide all the support that occupiers may need.
"Cheshire Green wants to create a park with well designed and built industrial and distribution units all within a sustainable and well-maintained environment that helps businesses that call it home be more successful."
Philip Cox, chief executive of Cheshire and Warrington (LEP), said: "Cheshire Green is an important site that will support the continued growth of our economy, already one of the strongest in the country with the highest output per head of the population outside of London."
Available on either a freehold or leasehold basis, Cheshire Green is offering plots ranging from one up to 20 acres. All of these will be fully serviced and available within 12 to 14 weeks of an agreed sale