Big Brand Ideas scores regional business award for Macclesfield Town FC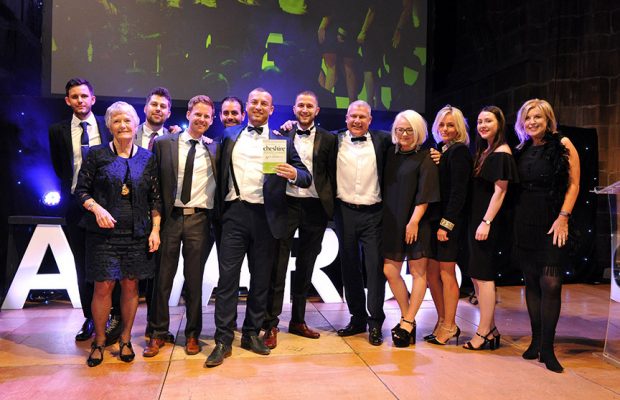 Macclesfield-based marketing agency, Big Brand Ideas, has been presented with the Creative Impact Award at the Trinity Mirror Cheshire Business Awards following its 'We're Going' campaign, which harnessed support for Macclesfield Town FC's FA Trophy Final match at Wembley in May.
The agency delivered a fully integrated campaign including print advertising, outdoor posters, social media and a supporters' website. 'We're Going' resulted in a 530 per cent increase in ticket sales for the FA Trophy Final compared to the club's typical match attendance, with nearly 9,000 Macclesfield Town fans travelling to Wembley.
The campaign also helped to inspire the next generation of Silkmen fans, with the sales of season tickets for 2017-18 increasing by 50 per cent.
Big Brand Ideas, Managing Director, Jon Butler, said: "We thoroughly enjoyed working with the team at Macclesfield Town FC and I'm really proud of the whole team. Winning the Creative Impact Award is the icing on the cake. At Big Brand Ideas we're all about creativity so it's really fitting to be recognised in this way."
Rob Heys, general manager at Macclesfield Town FC, said; "We're really pleased that Big Brand Ideas has been recognised for the excellent work it did on the 'We're Going' campaign. It was a significant driving force behind the success of our Wembley ticket sales. The combination of traditional advertising and digital marketing allowed us to reach our desired audience, who subsequently provided us with fantastic support on matchday."
It has been brilliant to have the marketing expertise of Big Brand Ideas to help us to promote our FA Trophy Final match at Wembley.  They came up with the 'We're Going' tagline which will not only resonate with football fans across the county, but is also really flexible to allow us to talk to different groups, families and businesses. Their professionalism and passion for the project will maximise our chances of filling our allocation."
The Trinity Mirror Cheshire Business Awards have been recognising firms across the region for more than a decade. The awards celebrate local excellence and identify companies and business leaders who have demonstrated the foresight to drive their business and the region forward.
For more information on Big Brand Ideas visit www.bigbrandideas.co.uk