When did our laws stop protecting us?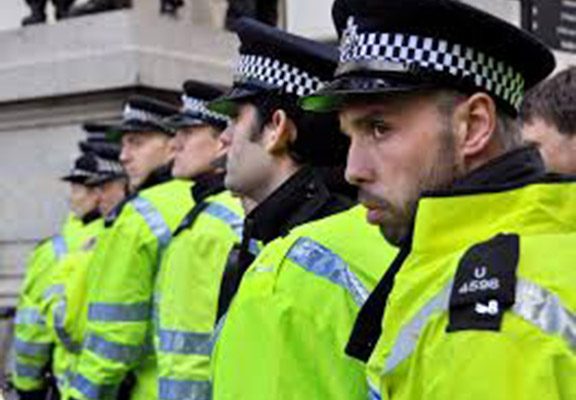 I own a small commercial property on Brown Street in Macclesfield, occupied by Brassington's bakery, that effectively represents my old-age pension.
The tenants failed to pay the rent when it became due, they even questioned why they should have to pay it, so I took legal advice.
The commercial property lease states if the rent remains unpaid after 21 days  I can enter and secure the property – at which point the lease is automatically terminated.
I didn't need to, but I advised the tenants that if they failed to pay I would take this action.
Over this period they sent me several communications advising me that the rent had been paid, but on checking with my pension provider I discovered it hadn't.
I checked that I was doing the right thing with a lawyer and on the 24th day I made what's called 'peaceable re-entry' – entered the premises and changing the locks.
I put notices up on the windows stating what I'd done, I even phoned the local police station to advise them, just in case there was an attempt to gain access.
I emailed the tenant and told them the same – and that their lease was now forfeit.
The following morning I was told that the tenants had in fact broken in – and were working there.
I did what any reasonable person would do – I phoned the police.
I expected the ex-tenants would be removed from my premises, cautioned or even arrested.
When two police officers attended they didn't appear interested in hearing from me.
They were told by the ex-tenants that I was being unreasonable – and that they had in fact paid the rent.
I said the rent hadn't yet been paid – but that in law that was irrelevant – it had to be paid on time – and their lease had been ended.
As it hadn't been paid by the 21st day of being overdue, I had entered the premises, changed the locks and the lease was forfeit – they had broken in – and were now illegally occupying my property.
I even suggested that I could prove to the officers that I was speaking the truth and the rent still hadn't been paid – but they weren't interested.
What's more I stated, the tenants had changed all the locks – itself a breach of the now, non-existent tenancy.
They told me "it's evident to us that your tenants are hard-working and struggling to run a business" – and me, they felt I was "being unreasonable."
In the space of five minutes, without any facts or evidence, they'd become judge, jury and executioner  and concluded that I was at fault.
A later conversation with the station sergeant proved futile, similarly later with the station inspector – however, he did finally agree to investigate the issue further.
Perhaps unsurprisingly, later that morning the rent was received, but I'm adamant that on this occasion justice failed to be done.
Just when did our laws stop protecting us?
Granville Sellars