Cancer patient visits AstraZeneca employees at Macclesfiel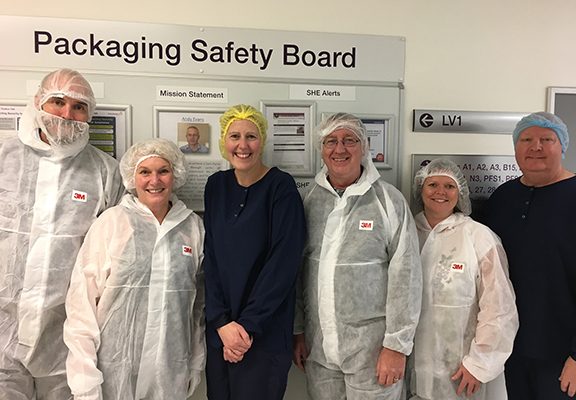 Above: Patient Sue Vincent 2nd from left visits packing at AstraZeneca
Employees at AstraZeneca Macclesfield were delighted to welcome ovarian cancer patient Sue Vincent to the site where she told her story from diagnosis through to joining a clinical trial of one of a new class of cancer drug called PARP inhibitors, a strong area of research for AstraZeneca.
Sue enrolled on a clinical trial of AstraZeneca's PARP inhibitor, some six and half years ago after her ovarian cancer relapsed.  She had tested positive for a specific cancer mutation called BRCA – the same as actress Angelina Jolie and was offered entry onto the trial by her consultant.
Arriving on site in Macclesfield, Sue firstly told her moving story to a gathering of 500 employees.  She described the emotion of her diagnosis, how the BRCA mutation test had enabled her to join the trial and what life has been like since she has taken the new medicine. Sue thanked all those gathered to hear her for their work in getting medicines to patients.
After the session Sue visited the laboratories where the medicine was developed.  She toured the packing line and talked with the team who spend their days preparing the medicine for distribution to markets across the world.
Site Lead Andy Evans said: "it was a real privilege to have Sue with us today.   She told her story from the heart and I know it has meant a lot to the people on site.  Knowing that patients like Sue are those who receive the medicines we develop and manufacture helps us all to put the patient at the heart of everything we do."