Prestbury pupils star in China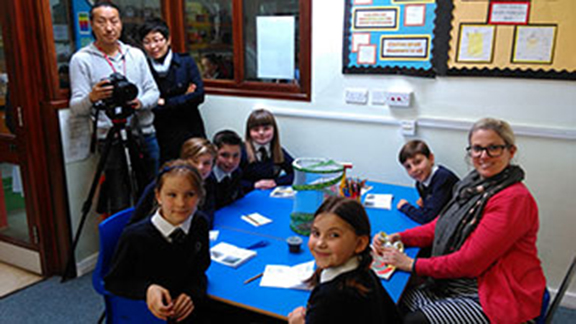 Pupils at Prestbury Church of England Primary School are about to star in a film to be transmitted to an audience of one billion in China.
A film crew from CCTV (China Central Television) dropped into the school as part of a production for a series of short documentaries about Macclesfield's silk heritage and silk links with China.
All the children are currently working on a project exploring the centuries-old history behind the town's silk trade, its links with China and other countries.
The camera crew, from Beijing, were also shown the school's collection of silk worms, which produce the raw material.
The mini-documentary is to be transmitted on the broadcaster's children's channel – the equivalent of CBeebies – around June 1 to mark International Children's Day.
The crew also filmed at the town's Treacle Market and at the Silk Museum and Paradise Mill, where a huge collection of old Jacquard looms are on display.
Another strand of the production is due to be broadcast on May 18, to coincide with the country's 'One Belt – One Road' international trade conference.
Interviews with the Manchester China Forum and Ron Smart, of R A Smart's of Bollington, makers of fine silk products, including the Macclesfield silk tie, are also likely to be featured.
In its heyday, Macclesfield saw some 70 silk mills operating, all contributing to an industry that employed more than 15,000 people in mills and weaving sheds in and around the town.
The visit by CCTV was facilitated by the Manchester China Forum, Cheshire East Council and Graham Barrow, a Bollington-based heritage and tourist consultant who is promoting the concept of Macclesfield as the 'end of the silk road'.
Councillor Hilda Gaddum, whose family-run business once had offices in China and continues to operate as silk merchants in Leek, said: "This is a great opportunity for Macclesfield to build on its strong links with the silk trade in China.
"Macclesfield is viewed by many as the unofficial end to the silk routes from the Far East to Europe and the fact that we have companies continuing to produce silk products here is something of which we should feel truly proud."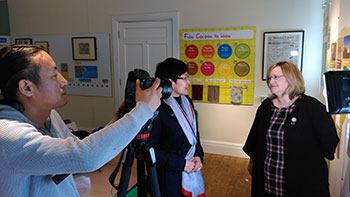 Councillor Ainsley Arnold, cabinet member for heritage, said: "The Silk Museum and Paradise Mill in Macclesfield provide a fascinating insight into the town's silk industry and contain an extensive collection of exhibits, including historic looms, silk products and fascinating stories about the town's rich heritage.
"The interest shown by China Television is greatly appreciated and who knows, we could see a new silk trail of Chinese visitors and tourists to the town as a result of this!"
Prestbury Primary School teacher Hannah Hague said: "It was a real thrill for our pupils to be filmed for television in China.  They have shown great enthusiasm for learning the silk history of our town and this has rewarded them for all the hard work they have put in."