Fallibroome students in Parliament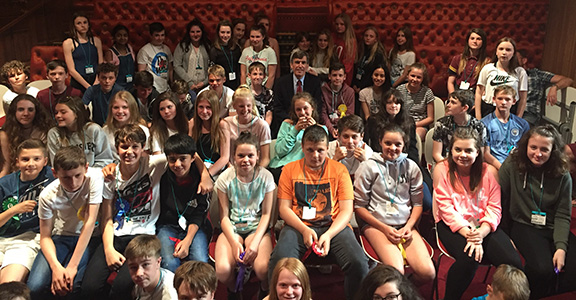 Pupils from Fallibroome Academy were joined by David Rutley, MP for Macclesfield, for a discussion and a question and answer session on their visit to Parliament in late June.
David met the pupils in the Parliamentary Education Centre, where he explained to pupils more about his role as an MP, and discussed with them the Queen's Speech, which had taken place the day before, and the workings of the Houses of Parliament. He also answered questions on school funding, the UK's withdrawal from the EU and on the impact of social media.
The Fallibroome pupils enjoyed a tour of the Houses of Parliament, and watched proceedings in both Houses. In the afternoon, the group participated in interactive workshops, where they explored the work of Parliament in more detail.
Following the session David said: "I am always pleased to meet school groups from Macclesfield, and to have the opportunity to take their questions and explain more about my role as their local MP. This group of Fallibroome pupils was clearly well informed about our democratic processes, and asked interesting questions. I hope that they enjoyed their visit to Parliament, and I look forward to more school groups taking up the opportunity to visit in the months ahead."