David Rutley's Reading Challenge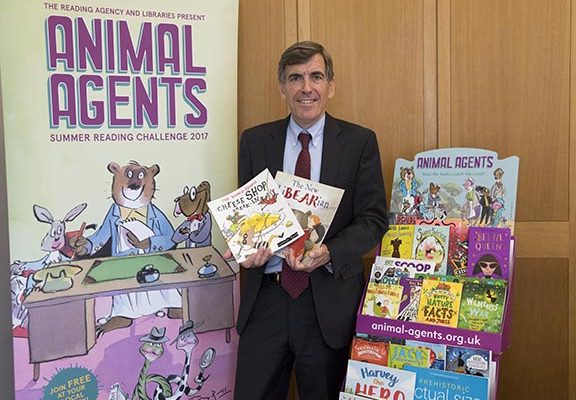 Local MP, David Rutley, is once again supporting the campaign which encourages primary school children to take part in the Summer Reading Challenge, – launching on Saturday 15th July.
The Summer Reading Challenge, run by The Reading Agency,  helps build confidence and independent reading skills, while helping to prevent the dip in children's reading levels during the long summer break from school. Last year The Summer Reading Challenge, saw over 729,000 children borrowing, reading and talking about their favourite books.
This year's theme is Animal Agents, based on a detective agency staffed by all kinds of animals who are out to crack a case with a little help from their friends. To take part children need to head to their local library and pick up a collector folder to keep a record of their reading journey. If children read at least six library books over the summer, they collect stickers which will help them crack the clues. Children can also use the special website animal-agents.org.uk to create a profile, chat about books, and get help on what to read next, via the digital Book Sorter which already offers over 600,000 peer to peer children's book recommendations in child-friendly categories.
For pre-schoolers there is a mini-challenge, while young people aged 13 to 24 can volunteer and support younger children taking part, as part of The Reading Agency's Reading Hack programme. Volunteering provides a quality workplace experience for young people in libraries, inspires them to think about their future career and increases their employability as they gain useful life skills and confidence. Last year over 7,500 young people across the UK volunteered.
Neil MacInnes, President of the Society of Chief Librarians, said: "Public Libraries across the country are celebrating the joy of reading as part of the Summer Reading Challenge. There's a brilliant range of free activities in libraries throughout the summer to bring the Animal Agents theme alive, and encourage children to read during the long break from school. Young people can also get involved in exciting volunteering opportunities, by supporting younger children taking part."
David Rutley MP said: "I hope parents, grandparents and carers in Macclesfield will take their children to the library over the summer to sign up for the Summer Reading Challenge.  It's free, inclusive and, most importantly, makes reading fun. Last year 6,640 children in Cheshire East took part, and I hope that we can encourage even more to participate this year".