David says "Wear it Pink"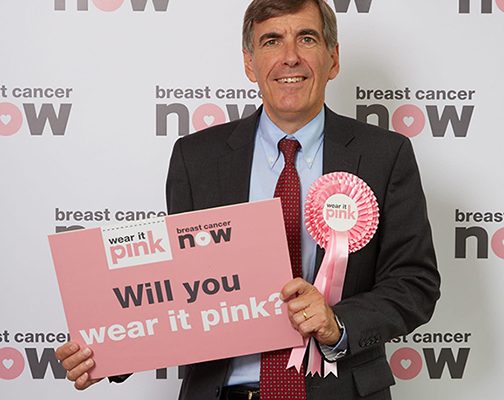 Wear It Pink, the flagship fundraiser of leading charity Breast Cancer Now, is being supported once again by Macclesfield's Member of Parliament, David Rutley.
David is encouraging Macclesfield residents to take part in Wear It Pink 2017 by adding something pink to their outfits on Friday 20th October, in aid of breast cancer research.
Last week, he attended an event in Parliament hosted by Breast Cancer Now, to show his support for this important initiative to raise funds for the thousands of women and men affected by breast cancer each year, and to talk with representatives from Breast Cancer Now about the progress that needs to be made to improve cancer survival rates.
Wear It Pink, which takes place during October's Breast Cancer Awareness Month, is in its sixteenth year and has raised over £30 million to date for Breast Cancer Now's life-saving research. Anyone can take part in Wear It Pink, including schools and workplaces by putting on something pink, and making a donation to Breast Cancer Now. People can also hold 'pink events' in their homes, workplaces or schools.
Last year, the generosity of Macclesfield residents raised £830 for Breast Cancer Now, and David hopes that total can be exceeded this year. There is more information about how to take part in Wear It Pink this October at wearitpink.org/2017, as well as fundraising ideas and how to register for free fundraising packs.
Although good progress has been made to improve the diagnosis and treatment of breast cancer, it remains the most common cancer in the UK. Nearly 700,000 people living in the UK have experienced a diagnosis and one in eight women will face it in their lifetime. This year alone, more than 50,000 women will be told they have the disease. Fundraising events are an important way to support further research into breast cancer treatment.
Speaking after the event, David said, "Breast cancer is the most common cancer in the UK. One in eight women will face it in their lifetime, and every year over 11,000 women and 80 men lose their lives to the disease. I would encourage Macclesfield residents, businesses and schools to take part in the important Wear It Pink initiative on Friday 20 October. It's an easy and fun way for people to come together to support those affected by breast cancer and support vital research."