Open Art Exhibition – call for artists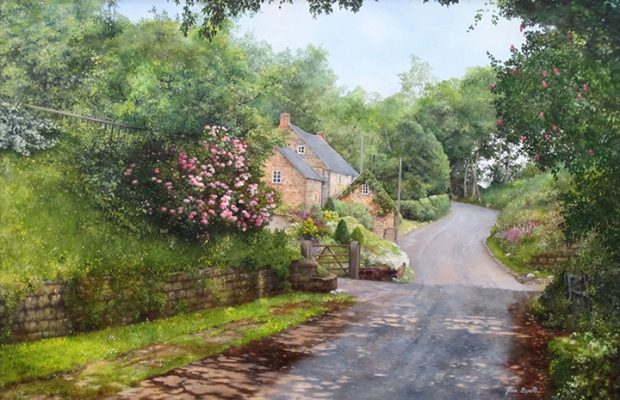 Above: 'A Shady Lane' by Jean Byatt (Macclesfield Open Award 2016)
The 2017 Macclesfield Open Art Exhibition is to be held at The Silk Museum from Saturday 9 December until Saturday 20 January 2018 and artists are invited to enter up to two pieces in this prestigious annual show, in any two- or three-dimensional medium.
 Last year's exhibition was the biggest, and by general agreement, the best yet, with 225 works by 148 artists exhibited.
 Although initially intended to showcase local talent, the exhibition now attracts many entries from much further afield, including Merseyside, Greater Manchester, Derbyshire, Staffordshire and last year, even one from Australia! The majority of entries still come from artists in and around Macclesfield.
 This year the total prize money and number of awards have been increased again, thanks to continuing sponsorship from Macclesfield Museums, Macclesfield Town Council and Mail Boxes Etc.
 There will be six awards: the Macclesfield Open Award of £300, two Judges' Awards of £100 each, a £100 Silk Museum Award, and a £100 award chosen and donated by Mail Boxes Etc. There is also Visitors' Choice category, voted for by visitors to the exhibition; this £100 prize is awarded once the votes have been counted at the close of the exhibition.
 Handing-in days at The Silk Museum are Friday 17 and Saturday 18 November, between 10.30am and 3.00pm.
 Entry forms and guidelines are now available from libraries, Visitor Information Centres and museums in the area, and available to download from the Macclesfield Open Art website www.maccopen.org.uk and Macclesfield Museums' website www.macclesfieldmuseums.co.uk/5th