Le Gateau Chocolat brings Duckie to the Contact
The Contact Theatre is presenting a half term treat in the shape of – Duckie – a classic tale of identity and belonging,  Family-friendly glamour and glitz takes centre stage as critically acclaimed cabaret star Le Gateau Chocolat breaks out of his shell in his first work for children, a reimagining of Hans Christian Anderson's life-affirming tale of The Ugly Duckling.
Walking a little differently. Sounding a bit strange. Duckie knows what it's like to not fit the mould. A classic story of identity and belonging. Duckie is set in an animal circus. We join him on an adventure of self discovery. Peppered with dress ups, songs,  Disney references and at its core, an important message of acceptance. Duckie is a show for the entire family, Quack! Quack!
'it's impossible not to be charmed' The Reviews Hub
'If you are yet to hear that voice, take your kids or borrow some' What's On in Adelaide
·         October 24- 25th
·         2pm/7pm
·         £13 / £7 Concessions / £5 under 10s
·         0161 274 0600,contactmcr.com
·         All Ages
·         Contact Theatre, Oxford Road, Devas Street, Manchester M15 6JA
About Le Gateau Chocolat
The London-born Nigerian performer paved an eccentric path to the stage, earning a law degree at Sussex University before he discovering his talent and love for opera, jazz and musical theatre and creating his gender-bending cabaret alter-ego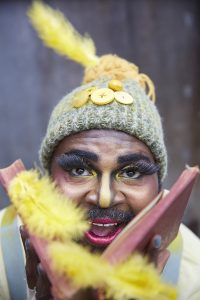 Le Gateau Chocolat's work as a solo artist began in 2011 when he debuted my first show at Adelaide Fringe which then went on to tour the world as part of different festivals; Edinburgh Fringe, Menier Chocolate Factory London, Poland, Christchurch, Melbourne and Sydney. Since then he have worked along side contemporary composers and performed in Glyndebourne, The Royal Opera House, Wigmore Hall, The Barbican.   3 subsequent shows have been made since his first; I heart Chocolat, 'In drag'; A Royal Festival hall commission for the Purcell Room, and most recently Total Theatre nominated –  'Black', a Homotopia Festival commission which has played Liverpool, London's soho theatre & Edinburgh Fringe.nce you can run this as a book it now… for October 24/25 so for issue out on October 22nd: